History
The game of cricket in South West Surrey and in particular the village of Chiddingfold has close historical ties with Hambledon and Broadhalfpenny Down. Indeed Tom Walker, a stalwart of the famous club and known for his stonewall batting and roundarm bowling lived in Chiddingfold and died there in 1831, aged 68. Chiddingfold Cricket Club had its home at Sydenhurst, a country house estate behind St Mary's Church, and could trace its existence from at least 1881 until World War II. The village before the war in fact fielded two cricket clubs, the other being Chiddingfold Working Mens CC who played next to the village school on Petworth Road. There was allegedly massive rivalry between the clubs.
At the outset of World War II however, the Sydenhurst ground was dug up to plant potatoes as part of the war effort, but when the conflict was over it was not possible to recover it for cricket – although the ground and pavilion are still where they were. So the club became a wandering side, adding 'Ramblers' to its title. The prime mover of the new Sydenhurst Ramblers CC was its captain, F T (Mike) Gauntlett, supported by Harold Cooper, the club's first Chairman, Mike Gauntlett was also instrumental in reviving the fortunes of Brook and Sandhills CC (between Milford and Haslemere), a club. with which, unsurprisingly, the Ramblers have had connections over the years.The first match was on Sunday 7th July 1946 against Farncombe at Broadwater near Godalming and was won by 8 wickets. A fortnight later Brook and Sandhills were defeated by 146 runs; playing in this match (and scoring 84) was Jack Parker of Surrey who had been chosen for the 1939/40 MCC tour to India.
Over the years, a number of other first class cricketers have played for the club – amongst them A E R Gilligan (Sussex and England), Ken Barrington (Surrey and England), Alf Gover (Surrey and England), Richard Jefferson (Cambridge University and Surrey), Bob Cottam (Hampshire and England), Peter Lewington (Warwickshire), Gerry Cogger (Sussex) and Hugh Wilson (Surrey and Somerset). More recently those appearing have included Tim O'Gorman (Derbyshire), Tim Dawson and Chris Townsend (both Oxford University), Mervyn Dillon (West Indies and Trinidad & Tobago), Sinethemba Mjekula (Eastern Province), Esmund Van Wyk (Western Province), James Wood (Durham UCCE), and Tarun Nethula (Auckland, Central Districts, and New Zealand (ODI)). There has been an Army connection too; the late Brigadier Mike White played for Northants, the Army and the Combined Services, and a number of other soldiers have also turned out.
Up until the early 1980s the Ramblers played a full fixture list – sometimes 45 matches a season, including a number of UK tours, plus hockey, football, and golf matches. After that time the number of regular fixtures was reduced (and has remained relatively modest) but since 1990 overseas tours have become a feature of Ramblers cricket.
The Early Tours 1951-72
The Ramblers led by their captain, Mike Gauntlett, played their very first tour match aginst Havant on 7th August 1951. Subsequent tours were based at the Graypoint Hotel at Findon near Worthing, In 1961 the tours switched to the West Midlands, based at the Black Boy Hotel in Bewdley and later the George Hotel in Solihull. Fixtures included Moseley, Ashfield, Worcestershire Ramblers, Worcestershire Gentlemen, Claverley, Knowle and Dorridge, Solihull, and Captain Dick Hawkins XI. In 1968 tours moved to Dorset and continued for four summers playing such clubs as Dorset Rangers, Lulworth Castle, Sherborne Ushers, Sherborne Town, and Dorset Agrarians.
The Tours 1990-2023
The Ramblers have toured far and wide since 1990, on occasion revisiting some destinations, having been to Berlin (twice), Cyprus, Gibraltar (three times), Hong Kong, Canada, Denmark, Guernsey, South Africa, Malta (three times), Portugal(twice), Trinidad & Tobago, Ireland, the Netherlands (twice), Corfu, Bologna, Guernsey and Sark – and was to have been Paris in 2020 until covid got in the way – as it did in 2021. Third time lucky was in 2022, and the 25th was to Brussels.
One memorable highlight (amongst many on and off the field) was in 2002 when the Ramblers played Queens Park CC at the Queens Park Oval Test ground in Trinidad with Mervyn Dillon (then the West Indies opening bowler) playing for us, and Brian Lara for the opposition.
John Hamilton and Brian Davenport have been on almost all 25 tours – but there are others such as Steve Andow and Graham Boxall who are not far behind. The ladies have always been a part of the tours, adding that special joie de vivre that only they can provide – and there are others no longer gracing the greensward who come along for the craic.
The Club Logo
Around the time of the first tours in the early 1950s, the club adopted its logo, Founder Mike Gauntlett who had occasion to visit the East Midlands in the course of his work, was in the habit of favouring a hostelry called 'The Rose Revived' at a bridge over the Thames near Standlake in Oxfordshire which had as its sign 'A rambling rose standing revived in a tankard of ale'. Set on a green background the sign was deemed to be very appropriate and was adopted as the club's logo – and has remained so to this day
Club Officers
SECRETARY : John Hamilton (jpeh59@gmail.com,07732-011181)
TREASURER & WEBSITE MANAGER: Brian Davenport (brian.davenport587@gmail.com,07887-876514)
COMMITTEE MEMBER: Richard Chibisa
TOUR COMMITTEE MEMBER : Harry Coe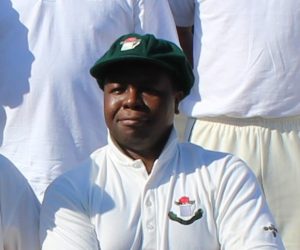 RICHARD CHIBISA – COMMITTEE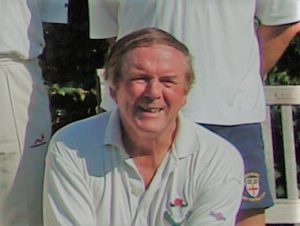 BRIAN DAVENPORT – TREASURER & WEBMASTER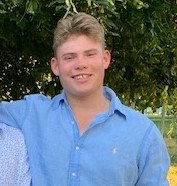 HARRY COE – TOUR COMNMITTEE