MIKE BACON

Mike Bacon, who died in his early seventies, joined the Ramblers in 1965, following his returning from India where he had worked in the paint industry – an interest he had in common with club founder FT 'Mike' Gauntlett.
He announced his arrival with 56 not out in the first match of the season against Zombies at Brook, 46 of which were boundaries. This was to be his highrst score for the club and he only time he passed the half-century mark. His efforts with the ball were more successful however, and his gentle off-spinners produced several 5fers. In 1973 he returned 7-19 v Haslemere, 6-64 v Oddites at Brook and 5-11 in 3.3 overs against Knotty Green.
Mike was a long time member of MCC and could regularly be found in the top tier of the Warner Stand at Lord's with Lionel and Tony Wood at Test matches. His cheerful laugh is much missed by those who knew and played with him.
CHRIS TERRY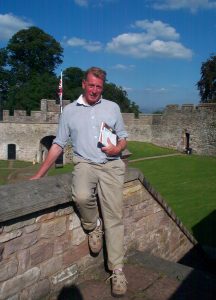 Christopher Anthony Patrick Terry was born on December 22nd 1938 at Alverstoke, Gosport. Because of the war, Christopher's education was neglected for the first six years of his life. However, he entered St George's School, Weybridge and secured a place at London University where he studied architecture and estate management.
During 1958, Christopher met up with Mike Gauntlett and began his cricket activity with both Brook and the Ramblers. Also, together with his mother, Jill, he moved to to live at Witley
Bowling was Christopher's successful art. In 1963 he took 7 wickets for 3 runs versus Reigate Pilgrims at Betchworth and in 1965 he created what is still a Ramblers' record – 10 wickets for 9 runs in 11.5 overs including 6 maidens. This was against Zombies at Brook on May 2nd that year.
Christopher in his Ramblers' matches took 5 wickets on 48 occasions. He was also elected a playing member of MCC in 1968
In addition to cricket, Christopher also had a good interest in hockey. He developed a Sydenhurst Ramblers team that began playing in 1962/63. The following year they played 21 matches, winning 11, losing 9 and drawing 1. Half the games were played at Rodborough School, Milford. The hockey club continued activity for 33 years, closing down in 1995.
Meanwhile Christopher, on completing his time at university, set up a career in the manufacturing and service industries. He retired early to restore listed buildings at home and overseas. In the 1980s, Christopher – with family then – moved up North to live at Brougham Hall, Penrith in Cumbria. In may 1986, he also bought High Head Castle, near Carlisle
Despite what must have been a very busy period, the records show that Christopher retained important connections with the Ramblers. He was Captain in 1974/77 and then 1985/90. He served as Secretary 1977/8 and then 1985/94.
Christopher also served as Treasurer from 1985 through to 2015. He was involved in setting up and managing overseas tours. He also produced and distributed the Ramblers fixture cards.
Christopher passed away on 9th August 2016. A service of Thanksgiving and Remembrance took place at St Andrews Church, Penrith followed by interment at Brougham Hall on 22nd August 2016.
DMTG
TONY WOOD
Tony Wood died peacefully, aged 74, at Mt Alvernia Hospital, Guildford, on 16th December 2003 with his wife Jean and daughters Catherine, Suzy and Pippa at his bedside after a long illness patiently borne.
He played 679 matches for the Ramblers over 28 years – 163 more than any other member, and in 1970 played in 41 matches. A member of MCC, in later years he was usually found to be in the Warner Stand at Lord's with friends and customers during a Test match. He was also a member of Hampshire for whose 2nd XI he played one game in 1962
A left hand bat, he usually opened the innings with Nick Harper (also a left hander) and they made a formidable partnership. In total he scored 18267 runs, made 16 centuries, including 5 in 1966, and also 101 fifties, including 9 in 1970, scored 1000 runs in six seasons (best 1392 at 47.03 in 1966), and passed 300 on 13 other occasions. Tony also took 441 wickets at an average of 19.92, with a best of 9-39. Add to that 243 catches; he was a true all-rounder.
Anthony Kenneth Wood was the younger of two brothers born and brought up at Hambledon near Godalming. Tony, whose father was a woodwork instructor, trained as a carpenter and worked at St Thomas's Hospital, Hydestile. He did his National Service in the RAF, and afterwards in 1952, joined his brother Lionel working as a sales representative for Docker Brothers, a paint manufacturer whose Southern depot was at Portsmouth Road, Milford. The area manager was Mike Gauntlett, who brought him to the Ramblers, via Hambledon where he played his early cricket, and Brook CC – where in due course he was the groundsman. He was made a Life Member of the club (together with brother Lionel) in 2003, entirely appropriate for someone who was the backbone of the Ramblers almost from the club's inception
edited from unknown authorship